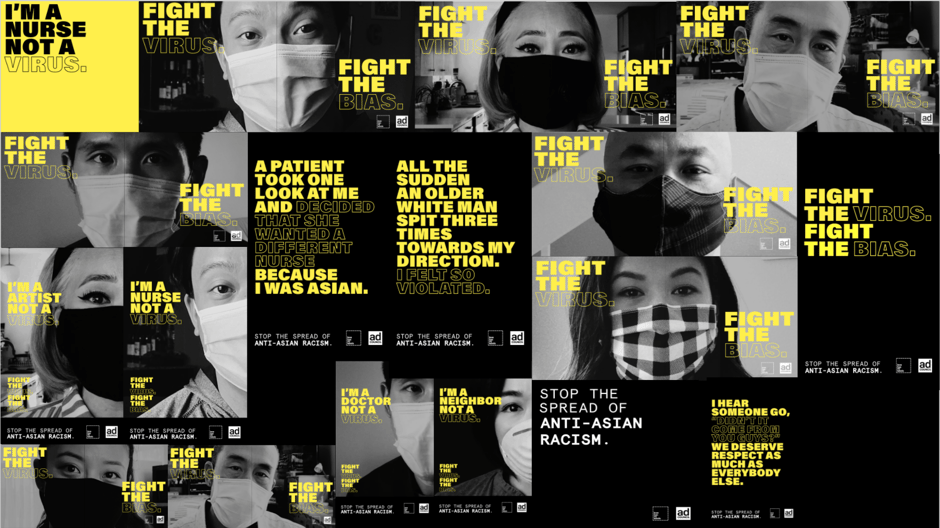 How do you fight racism? One heart at a time.
Every day, Americans who are a part of our communities are sharing their stories of unexpected encounters with racism where they live and work for being Asian. And Ready State is helping to share their stories through a national Fight Virus Bias campaign for the Love Has No Labels movement.
The recent rash of hate crimes against Americans who are Asian is bringing visibility to something that has not been visible. Many people don't think of Asian Americans as victims of racism. However, the escalating attacks over the past year reveal the reality that Asian Americans are still assumed to be somehow intrinsically less American.
Right from the start of the pandemic, Asian Americans were unfairly blamed and violently attacked, while society as a whole has seemed to turn a blind eye. This was unjust and unAmerican, and something had to be done. We decided to rally the agency to help shine a light on Asians, and tell our stories in a way that weaves us back into the fabric of America.
As an Asian and an American, this moment is very personal to me. At Ready State, my cofounder and Creative Director are also of Asian descent. Our offices in North Beach are only blocks away from San Francisco Chinatown. The devastation that the pandemic has wrought on the community is right before our eyes.
So when the ANA Foundation asked if Ready State would be interested in helping out with an Ad Council campaign to combat anti-Asian racism, we jumped at the opportunity to fire an emergency flare into the mass media.
Love Has No Labels is the Ad Council's creative platform dedicated to overcoming bias and promoting acceptance. The Fight Virus Bias campaign is specifically designed to highlight the personal stories and resilience of Asian Americans. It launched in July, 2020, with a public service announcement (PSA) directed by Emmy® and Peabody Award winning writer and producer Alan Yang.
Ready State handled the creative extensions for digital, print, and outdoor media, and refreshed the campaign in February, 2021. You can see our case study on our website.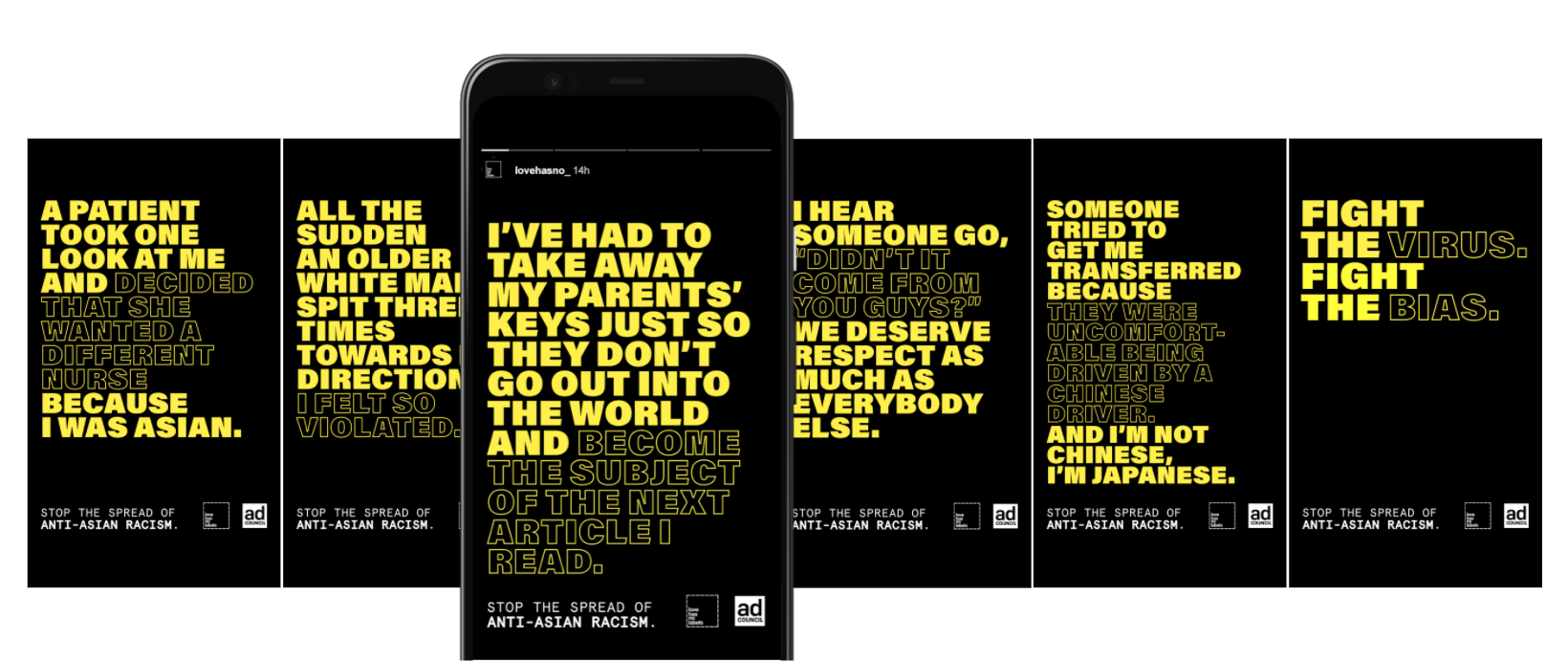 Susi Harris is our Creative Strategist at Ready State and led the creative charge on this campaign. She says, "It's easy to live your own life and not even think about what is happening to other people. It's too easy to go about your life and stay in an isolated bubble of 'me'. You don't even realize that you're doing it."
She recognized that this campaign was meant for people like her. People who would speak up, but were not aware of the attacks, and that insight informed the creative strategy.
The PSA was a video, but we had to tell the story in static, which meant parsing down the story into a single image and headline. How do you make the same impact if you can't hear their voices or see their emotions?
Susi says, "Our solution was to focus on the eyes. You can't avoid it when we make eye contact, you can't look away. If you do it's because you don't want to feel their feelings, or admit that you are complacent. It's so easy to pretend it's not happening, but when you make eye contact, you see someone is looking at you saying I'm a human."
In a nutshell, the strategy was to bring humanity to those who are being dehumanized.
For the magazine placements in 2021, we decided that instead of focusing on the person's face, we focus on the person's occupation, which moved the visuals from the eyes to the hands. Which we also believe moved the campaign into each of our own neighborhoods. "Now it's your bus driver, it's your firefighter. All of a sudden it becomes more personal because you know them," Susi explains.
This creative direction led us to rethink the layouts for the full-page newspaper ads. The stories became the focus, and we stripped back the visuals. When we made it text only, you hear it in your own voice, which made it more real and personal.
"Working on this opened my eyes to who we are as a country and as a people. And that we can do important work that is meaningful and bigger than us," Susi concluded.
Our belief is that people are generally fair and kind, and we hope that if we can draw their attention to the circumstances of intolerance or inequality, they will raise their voices. With the current spotlight on anti-Asian racism, we hope to drive a dialogue, which can open hearts and minds.
We're saddened that a campaign like this is needed in 2021, but it's marketing for good, and it is something that we at Ready State will continue to do. As a certified Minority-owned Business Enterprise, applying our marketing skills to promote greater equality and prosperity for all is the most American thing we can do.