Fast fashion has become a rising force in the clothing industry. However, when it comes to sustainability, one might wonder whether efficiency and ethical practices can coexist for the future of fashion. As we continue our learning journey as a Certified B Corp, we at Ready State are always curious to explore industry best practices to help us understand how companies are committing to sustainability efforts.
In 2019, the University of Leeds and Arup issued a report discussing the environmental impacts of consumption within the C40 cities (New York, London, Tokyo, to name a few). Because these cities account for around 10% of global greenhouse gas emissions, the report suggested that if residents buy at most 8 pieces of clothing each year, emissions from the fashion industry could decrease by 37% from 2017 to 2030.
How could this simple restraint on spending produce such a great environmental impact? This got me thinking: if consumers can have such an effect, can clothing companies, as the indirect sources of emissions in the industry, also take strides toward building a sustainable future?
The Future of Fashion
Scrolling through social media, it is easier than ever to fall into a fashion rabbit hole and pass through thousands of videos and posts titled OOTD (Outfit Of The Day) or GRWM (Get Ready With Me). And with millions of views, having daily outfits and keeping up with trends seems to grow in appeal. How the fast fashion model can fuel this growing fire then becomes obvious.
For those unfamiliar with fast fashion, it's a business model emphasizing the rapid development of stylish clothing at prices much cheaper than their designer counterparts. This means that fast fashion won't follow the traditional methods that many of us are used to: releasing clothing lines with specific aesthetics in a systematic, cyclical manner at prices that somewhat reflect the efforts of conceptualizing and producing. Think H&M vs. Ralph Lauren.
With fast fashion fulfilling the desire to have daily attire, it became clearer to me that this practice is becoming the future of fashion. The data shows this, too: over the past three years, fast fashion has grown by 20% and achieved a global market size of $106.42 billion in 2022. The model's emphasis on "shortening the fashion cycle" has helped it thrive in an e-commerce environment, while traditional companies seemed to struggle during the pandemic.
With trendy clothing at more affordable prices landing at your doorstep within days (and sometimes hours), what's the catch? Well, if you reduce the cost of your clothing, the idea of being sustainable can get thrown out the window.
The ingredients needed to bake the perfect sustainable fashion company are:
Eco-friendly materials which are recycled or responsibly sourced
Sustainable farming processes, such as regenerative agriculture
Living wages, humane working conditions, and other benefits for your workers
Well, let's get cooking! … or not. The fashion industry as a whole has messed up this recipe so badly that even Gordon Ramsey can't help them. The industry contributes 8-10% of global emissions while the textile industry itself indulges in a staggering 93 billion cubic meters of water each year, about the amount of water flowing through Niagara Falls for 447 days.
A brief overview of regenerative farming with Sheep Inc.
After taking this peek behind the curtain of fast fashion, it dawned on me that addressing sustainability within fast fashion's formative years could create a greener future by reducing the fashion industry's future emissions and environmental impact.
Perhaps examining the current environmental decisions within the fashion industry could reveal some guidelines for fast fashion to adopt as it grows. So, I started looking into how both traditional and fast fashion companies have begun working towards greener practices.
A Sustainable Future
A good place to start would be to pinpoint how fast fashion companies are already addressing sustainability criticisms. Asos and Primark are two big players in this area that have announced sustainability campaigns for 2030. With each defining a handful of goals for the future, these companies have at least begun to acknowledge their environmental impacts and have decided to take action.
Broadly speaking, they seek to reduce greenhouse gas emissions, recycle materials and fabrics, and take some level of social responsibility (such as ensuring living wages or equal opportunities for women).
Although Asos and Primark have taken their first steps towards a more sustainable future, the foundations of these fast fashion powerhouses are based on quickly bringing cheap clothing to the consumer. But just as organic strawberries tend to be more expensive than their conventionally-grown counterparts, so too might sustainable fast fashion lighten your wallet.
After all, by reducing chemicals, increasing wages, and adopting other green practices, companies like Asos and Primark will surely bear higher costs that will probably reflect in their prices.
And for those concerned about sustainable practices, the preexisting lack of transparency within fashion supply chains clears the way for companies to exaggerate their environmental practices without taking the heat, ultimately leading to greenwashing. We'll return to this conundrum in a minute.
Let's look at Patagonia, the poster child of sustainable clothing and a fellow B Corp. A quick glance at their website reveals the blueprint for being environmentally friendly while remaining popular and trendy within the fashion industry.
Back in 2011, Patagonia released an ad titled "Don't Buy This Jacket, Black Friday and the New York Times" to tackle a primary villain in fashion's quest to become sustainable: overconsumption.
Since then, Patagonia has showcased its transparency by allowing users to locate factories and other parts of their supply chain, something which fast fashion companies have also started to adopt. Patagonia also takes pride in its take-back program, work with NGOs, and "preferred" materials.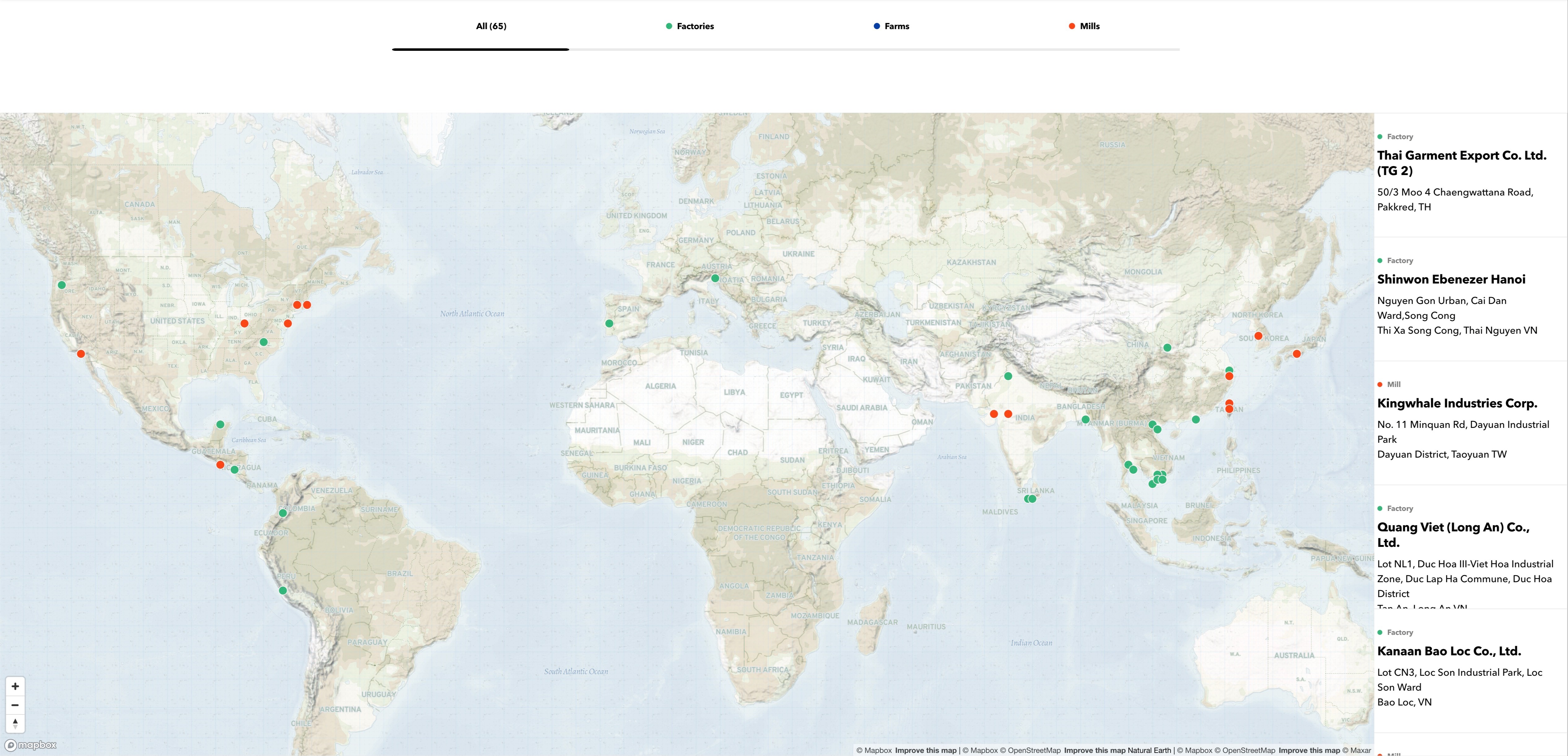 Patagonia's map of factories, farms, and mills
However, some might say that because Patagonia sells premium products which are more practical than aesthetic, it's unfair to compare Patagonia's efforts to fast fashion companies. Fast fashion companies should nevertheless look up to Patagonia as a big sibling, seeking to also establish diverse programs which target their goals from different angles.
Turning back to fast fashion, although some companies are taking a few steps towards a greener future, the issue of greenwashing through firm commitment and a lack of transparency resurfaces the fundamental question: can the fast fashion model even be compatible with the environment?
Sustainable practices require more attention and care in each step of the supply chain, resulting in higher costs and prices. This just feels contradictory to me.
But what if we tweak the model, distributing the responsibility of being eco-friendly between buyers and sellers? With fast fashion's growth owing to consumer demand, maybe the onus of sustainable fast fashion should not only be on corporate programs but also on customer mindsets.
Farm to (Store) Table… and Vice Versa
With the fashion industry already responsible for a sizable portion of global emissions, the tendency to overconsume through fast fashion only fans the flames. So, to achieve sustainability, the consumer should also attempt the near-Sisyphean task of not overindulging.
The byproduct of overconsumption is our "throwaway" culture. As roughly 85% of textile waste in the U.S. is dumped into landfills or incinerated, bringing attention to methods of recycling and reusing would be the best plan of attack. Just like Patagonia's 2011 ad, companies could build campaigns to create awareness about renewable disposal methods.
Alongside fast fashion, I've experienced how social media has resurrected thrifting. It then makes sense for consumers to donate their fast fashion clothing to thrift stores or other charitable organizations, maintaining lower prices while preserving certain trendy pieces. After all, mainstream fashion trends tend to loop every so often - just look at parachute pants, bucket hats, or bomber jackets.
Fast fashion companies can also create return programs after a consumer is done with their purchases. Just take a look at businesses like Patagonia, Zellerfeld, or local favorite Marine Layer, whose programs allow them to recycle their materials and prevent unnecessary waste. Perhaps sustainability efforts can even get away with slightly higher prices - markups which, research shows, make no difference to consumers as long as they know why.
Marine Layer's Re-Spun Program
Ultimately, fast fashion's rise within the industry is inevitable. As people remain interconnected through social media, the desire to know and buy into fashion trends will remain, and fast fashion companies will be right there to quench consumers' thirst. Fast fashion has skyrocketed within just a few years, so there's no doubt it'll soon be the future of fashion.
In a nutshell, if we want to rein in fashion's contribution to greenhouse gas emissions, a good opening move would be to replace fast fashion's environmental costs with sincere programs that transparently focus on environmentally friendly materials, sustainable farming practices, and fair treatment of laborers.
Consumers must also be conscious of their consumption and disposal of clothing to ensure sustainability in the fashion industry. Whether that be by reusing, recycling, or donating to environmentally conscious companies, consumers should realize that their decisions can create enormous environmental ripple effects.
At Ready State, we're constantly on the lookout for insights from the B Corp community that can help inform us about incorporating transparent, sustainable practices. We're thrilled to witness fast fashion's evolution towards responsible sustainability and eager to learn from its progress in growing more environmentally conscious.