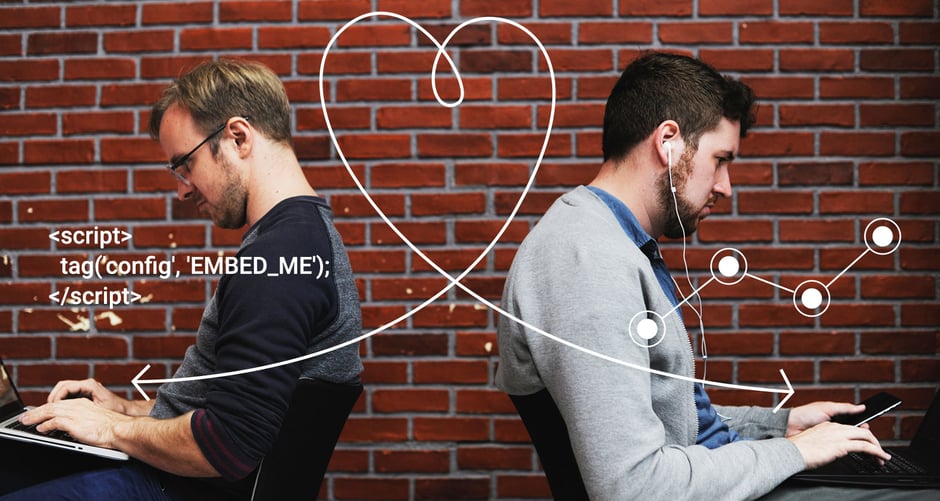 It's an old story. Great marketing technology launches, promising to serve highly refined visitor segments exactly the information they need—converting them into not just customers, but fans. Early adopters bring the technology to their websites and wait for the cash to start rolling in.
But you know what happens: something in the code misfires, and the sites break, and after a significant investment in time and energy, the project is abandoned in favor of basic and stable functionality. No more segmentation, no more cutting edge martech. And the next time marketing wants to implement the latest tool? Forget about it.
There's some great technology being developed, but there's a significant barrier to its adoption: code implementation. Tracking tools like Google Analytics, and new segmentation tools like those offered by Scaled Inference, need code on every page. Tools can't work without it.
But historically, owners of any code changes are often resistant gatekeepers. And for good reason: code is breakable. Some sites have fragile underlying code; as a result, changes to that code are tightly controlled. Other sites are the product of a siloed organizational structure, separating marketing from site development.
Changes that seem small can cause significant problems when miscoded. A page rebuild can inadvertently reduce search optimization, resulting in a drop rather than an increase in traffic. So the barriers in place make sense from a risk perspective. However, as martech tools get stronger, so do their potential rewards.
The good news is, for many companies, the wall between martech and site code is coming down. Or at least, it is becoming more permeable.
Here are some ways companies are working around the code barrier:
Leaving segmentation to places where it doesn't break anything. Emails are standalone digital assets that don't impact site code, and companies like Motiva are applying machine-learning techniques to test and customize emails at a rate more like programmatic media buys than AB testing.
Pulling engagement behavior into a separate, less fragile environment. For example, Segment pulls on-site engagement behavior into its gated environment, then uses APIs to connect with other powerful data sources, or processors, to gather additional information.
Sharing site ownership between marketing and development. When marketing organizations and agencies have responsibility for design plus site development and maintenance, the customer is more likely to remain at the heart of digital decisions.
And this situation will get even better based on a few more developments on the horizon:
More API-like gates to enable low-risk sharing of information between data sources (like marketing sites) and insights developers (like Segment).
More of a modular approach for tracking, creating a safe area within the code where marketers can drop tags and enable tracking without affecting the display. Ideally, this is an area that non-coders can maintain.
If you or your business are among those who have suffered from code failure, it may be easy to dismiss tech-led marketing innovations as empty promises, or not worth the risk and expected pain. But remember, the rules for building and maintaining sites are in a perpetual state of change, almost always leading to more scalable and stable code environments. Companies who don't continue to question their policies and push for more porous walls between marketing, business results and site capabilities may find themselves significantly behind others who are paying attention.
This article first appeared on MediaPost.